A Biographical Novel of the Greatest Dog Ever!
Droll Humor at its Best!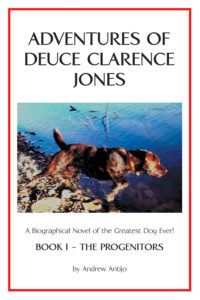 Featured in the September 1, 2016 issue of Kirkus Reviews:
"Antijo relates the heroic and often funny adventures of a family of Labrador retrievers in this debut book. … Vibrant stories that should amuse readers who love valiant dogs."
"These light-hearted stories are bound to elicit more than a few laughs as they showcase the felicitous qualities and bravery of these dogs …  "  Kirkus Reviews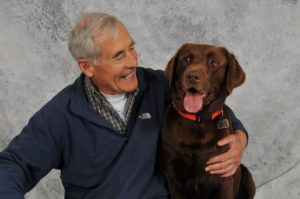 Deuce Clarence Jones and the author, Andrew Antijo         _________________________________________
Groffudd Talfryn is a con man who aims to have his black Labrador Retriever, Dylan, become an international champion and, in turn, make him very wealthy. His plan is thwarted by Bubbling Bedouine (Deuce's great-grandfather) who instigates his own scheme to win the championship. Bubbling then fathers a litter of pups which bring a high price, and the pick of the litter (Deuce's grandfather) goes to a hilarious couple from Cleveland, Ohio. As generations of these dog prodigies grow, the tales that follow include a bank robber, a schemer seeking romance, a handsome sea captain and awesome sea stories, an incredible pumpkin festival, and children fighting their own "Battle of the Alamo."
Book I – The Progenitors shares humorous stories involving the amazing ancestors of a beloved real-life Labrador retriever to reveal the legacy behind his own adventures to be chronicled in subsequent books in the Adventures of Deuce Clarence Jones series.